StreetsAlive!
Fargo-Moorhead Midwest Radio wants you to enjoy the streets of Fargo-Moorhead Sunday, July 13th!
What is StreetsAlive?
StreetsAlive! is an action-packed urban street event to spark movement in our communities. We invite you to jump in, get in motion and have some human-powered fun!
Three miles of streets through downtown Fargo and Moorhead are shut down to motorized traffic to encourage walking, running, biking, rollerblading, skating, dancing and other human movement. Start anywhere on the route!
Activity stations invite you to jump into a fitness class, play games, whirl hula hoops, watch demonstrations and eat healthy foods.
Hit the streets. Bring your dance. Bring your music. Volunteer. Bring friends and neighbors to walk, run, pedal stroll or skate together.
Changing the World
StreetsAlive! works to inspire people and organizations to adopt and celebrate more physically active lifestyles - to help change our culture to make active living the status quo. It's about embracing public spaces for activity and community engagement. It's about encouraging people to walk and bike to work or school. It's about connecting neighborhoods and people.
StreetsAlive! is organized by the Cass Clay Healthy People Initiative and Active In Moorhead to inspire people to adopt more physically active lifestyles regardless of current fitness condition. Healthy People Initiative is changing our local food and fitness culture. We're guiding schools, childcares and individuals to create settings that will grow strong, healthy kids and families.
View the map below: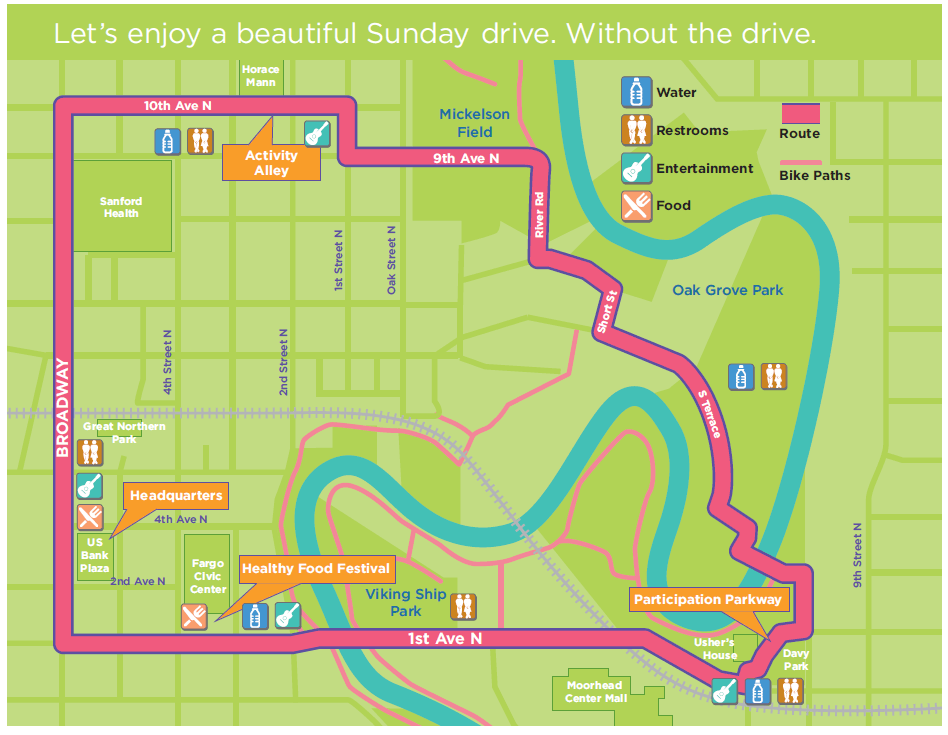 Find out more information about StreetsAlive! here or watch the video below: