« Shows & Personalities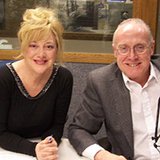 The Jack & Sandy Show
On Air:

Weekdays, 11am - 2pm

Hosts:

Jack Sunday, Sandy Buttweiler
About the Show

Lively banter and friendly phone calls from our listeners, newsmakers and special guests. Mostly, it's a fun and informative 3-hours.

Be sure to check us out on Facebook

Show Hosts

Jack Sunday

Jack began his radio career in 1968 as a rock and roll disc jockey in Idaho. Since settling down at KFGO in Fargo in 1989, he has been part of a team that has garnered the most prestigious awards given, such as two Peabodys. He is currently the Program Director of KFGO-AM and co-host of The Jack and Sandy Show. His partner Sandy Buttweiler and he are best friends and spend way too much time together.

Sandy Buttweiler

Sandy has been on-the-air since 1980. When she began her radio career in Buffalo, Minnesota, she was immediately recognized as an extraordinary talent. She was hired by KFGO in 1982 and mentored with the likes of Tom Wynn, Dave Lee and Larry Ristvedt. Sandy's talent eventually allowed her to host a very successful radio show at WCCO in Minneapolis. She decided to return to Fargo-Moorhead and came back to KFGO to co-host a long running radio show with Jack Sunday. With over 20 years together, the show is still growing and the bond with listeners is stronger than ever.