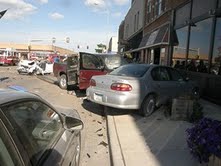 A multiple vehicle crash seriously injured two people on Main in downtown Valley City Friday afternoon around 5 o'clock.
Rescue crews worked for several minutes to extricate one person from their vehicle after the crash using the jaws of life.
Four vehicles were involved and authorities have not released any other details about the cause of the crash.