Default Template

Win An Ice Castle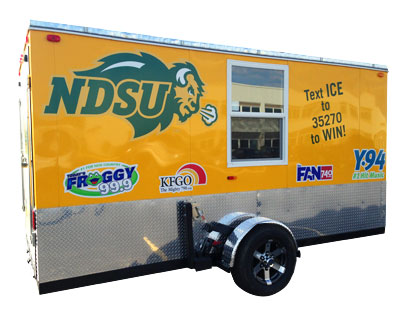 Want to show off your NDSU Bison pride? We have just the prize for you. We're giving away this totally decked out Bison Ice Castle. This "Toy Hauler Fish House" ice castle is custom Bison yellow with incredible Bison graphics. It is perfect for any year-round adventure, whether it's camping, fishing, tailgating, or any other activity. The back door comes down, so it's easy to haul anything imaginable like snowmobiles, 4 wheelers, and more!
The Bison Ice Castle giveaway is Thursday, November 14th at the Venue at the Hub. Qualifiers will be noticed by phone the week before the party. Qualifiers must sign in at the party between 4 and 6pm. Anyone who comes (qualifier or not) can register to win other prizes that include Bison football tickets, Bison basketball tickets, and more! The event is only for those 21 and over.
View the Official Contest Rules »
Register to Win
Registration is now closed.
Broadcast Times and Locations
September 28th at Hooters
October 19th at Hooters (11am - 1pm)
October 21st at Old Chicago
Sponsored By
Stop n Go
Outlet Recreation Dot Com
Sign A Rama